Last Updated on

With spring in the air, I am rearranging closets! Out with the sweatshirts, long sleeve shirts, and jackets and in with the flip flops and Tshirts! My husband is stuck in fancy work clothes all week and he HATES it! He is not a dress shoes and tie kindof guy but since he has to look professional at work, he doesn't have much of a say in the matter! When it comes to the weekend, he likes to dress down in shorts and Tshirts. He loves shirts that are unique and make a statement and there is a great selection of this kind of shirt at Nachomama Tees! If you have never shopped at Nachomama Tees, here is some information about them from their website: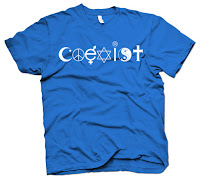 The search is over; you have found your unparalleled source for funny t shirts! At Nacho Mama Tees our crazy t shirt developers have come up with the best t shirts online! Shirts are printed on high quality super soft cotton shirts. So see what your missing and catch all the novelty shirts and the one stop funny t shirt shop!
Nachomama Tees offers a great daily Tshirt special that will really save you a lot of money! The offer great customer service and their selection of Tshirts is really pretty amazing.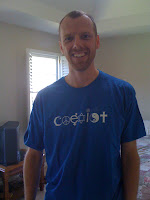 For my review, I chose this Coexist Tshirt for my husband. It is just one of the many items in the  Cool Tshirts category that Nachomama offers. I got him an extra large because he is really tall and it fit him perfectly. The material is a nice thickness and seems to be holding up well to washing and drying. I do not notice that it has shrunk at all so far. I really love the coexist pattern on the front and it, too, seems to be holding up to the dryer just fine! If you are looking for a selection of funny or unique Tshirts to add to your spring collection, I really recommend checking out Nachomama Tees. They have a variety of
Funny T Shirts
for everyone!
My thanks to Nachomama Tees for allowing me to review their shirts. 
Disclaimer: As per FTC guidelines, I received one shirt in exchange for my honest review. I received no monetary compensation. All opinions expressed here are mine and mine alone.
Posts feature partner companies & may be sponsored. Post contains affiliate links & I will be compensated if you make a purchase after clicking on links.
Diane has a Bachelor's degree in Microbiology with a Minor in Health Management and Policy. She spent many years working in cancer research, academics, and biotechnology. Concern over the growing incidence of human disease and the birth of her children led her to begin living a more natural life. She quickly realized that the information she was learning along the way could be beneficial to many others and started blogging as a way to share this knowledge with others. While passionate about health and the environment she can't quite give up her favorite Cheetos and Diet Coke! Learn more about her HERE.