Last Updated on October 8, 2018 by Diane Hoffmaster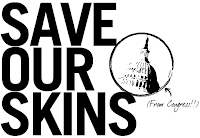 Coming just in time for Earth Day,
Earthjustice
is releasing a new campaign to educate the public about congressional measures that will put a strain on the environment and several species of endangered animals.
Earthjustice
, the non-profit public interest law firm dedicated to protecting the Earth and its resources, is using social media to personify three animals that have been threatened by a number of anti-wildlife legislation tactics:
the gray wolf
,
the salmon
, and the
polar bear
.
Earthjustice
launched the
Save Our Skins
campaign to reach out to the public via popular social media channels, such as Twitter and Youtube, and ask them to pressure Congress by getting in touch with representatives capable of bringing change.
Posts feature partner companies & may be sponsored. Post contains affiliate links & I will be compensated if you make a purchase after clicking on links.
To get the word out,
Save Our Skins
is more than just a petition; it's a chance for the soapbox to be given to the animals themselves. As part of the campaign, each creature will share their daily adventures and trials on a personal Twitter account. Recognizing the importance of making the campaign appealing and sharable, the social media-savvy animals combine wit with real facts and emotion to state their case; from the swaggering, Chuck Norris-like gray wolf who likes to see steam coming out of his nostrils on a cold day, to the neurotic and painfully naïve salmon who is unaware of the fact that people appreciate salmon mostly as a delicious entrée. The result is a quirky cast of characters with a message that hits close to home.
Save Our Skins
serves to iterate just how little the wolf, salmon, and polar bear ask for — they just want a chance to live. All three are resilient creatures who did not survive this long just to have politicians put their existence up for a vote. Please help us get the word out about this vital issue by
sending a letter
to Senators Harry Reid and Mitch McConnell.
Earthjustice
aims to send 37,000 letters telling Congress that we oppose these attacks on the ESA, and we need you to help us reach our goal! These animals deserve to be on this earth as much as the rest of us: extinction is not an option.
TAKE ACTION
You can make your voice heard by sending a letter to Senators Harry Reid and Mitch McConnell! Click
here
to send a pre-written letter or to write your own message.
Diane has a Bachelor's degree in Microbiology with a Minor in Health Management and Policy. She spent many years working in cancer research, academics, and biotechnology. Concern over the growing incidence of human disease and the birth of her children led her to begin living a more natural life. She quickly realized that the information she was learning along the way could be beneficial to many others and started blogging as a way to share this knowledge with others. While passionate about health and the environment she can't quite give up her favorite Cheetos and Diet Coke! Learn more about her HERE.