Last Updated on October 8, 2018 by Diane Hoffmaster
Ten Thousand Villages
, a fair trade retailer, offers gifts, home decor, jewelry and personal accessories handcrafted by skilled women artisans around the globe. Ten Thousand Villages offers products from more than 130 artisan groups in 38 countries through a network of more than 390 retail outlets throughout the United States.
Posts feature partner companies & may be sponsored. Post contains affiliate links & I will be compensated if you make a purchase after clicking on links.
For more than 60 years, Ten Thousand Villages has established fair, long-term buying relationships in places where skilled artisans lack opportunities for stable income. Ten Thousand Villages is a nonprofit program of Mennonite Central Committee, a worldwide relief, development and peace ministry of Anabaptist churches.
There are so many unique items available through Ten Thousand Villages. Check out the beautiful
hand made cards
shown at right. Here is the story behind these beautiful cards: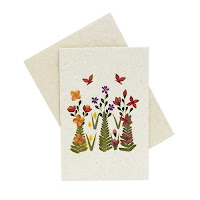 Artisans in the town of Salay, the Philippines, create this all occasion greeting card with handmade paper; they add the delightful flowers and butterflies with dried flowers grown in their gardens. Salay Handmade Paper was started in the late 1970s by Loreta Rafisura, a nurse-turned-entrepreneur. She began the program to create employment for people in her community of Salay, located on the island of Mindanao in the Philippines. The business has grown to employ 300 people in an area with little industry and a history of political unrest.
I love this beautiful
hand poured candle
. Absolutely beautiful! I love the idea of a kiwi scented candle! Here is the information about it from the web site:
Two-toned, kiwi-scented pillar candle, in warm gold-brown encircled with green, is perfect for late-summer patio lighting. Handcrafted by women artisans of La Luciérnaga, a candle making group in Tegucigalpa, Honduras. La Luciérnaga was established in 1999, and is a project of the nonprofit women's organization Actions for Popular Development (ADP). The work of ADP includes a shelter for abused women and their children, a home for pregnant women and a micro-lending program.
There are so many other unique products from
Ten Thousand Villages
and each one has it's own mission! This is a great way to support artisans around the world while enjoying some beautiful handcrafted items. If you are looking for a unique gift idea, this is a great place to shop!
Disclaimer:  I received no form of compensationn for this post, I just think it is a great mission to support!
Diane has a Bachelor's degree in Microbiology with a Minor in Health Management and Policy. She spent many years working in cancer research, academics, and biotechnology. Concern over the growing incidence of human disease and the birth of her children led her to begin living a more natural life. She quickly realized that the information she was learning along the way could be beneficial to many others and started blogging as a way to share this knowledge with others. While passionate about health and the environment she can't quite give up her favorite Cheetos and Diet Coke! Learn more about her HERE.