This discussion about easy workout tips is a sponsored post written by me on behalf of Clif Bar & Company for IZEA. All opinions are 100% mine.
Between my ongoing battle with middle aged metabolism and my love of cheese, I have to exercise pretty regularly. And by pretty regularly I mean just about every day. Between the exercise and watching what I eat, I was doing pretty good at fitting into my pants and hitting a number on the scale that I didn't hate up until about a year ago.
Maybe my metabolism figured out my strategy and revolted. Maybe I stopped being so careful about my diet. Whatever the cause, I am now at a weight that I haven't seen since I was pregnant with my kids and it needs to never be seen again. I have started trying to figure out what I am doing wrong and make a few changes. When I was asked to share a few easy workout tips and some nutrition advice from Bob Seebohar, I was curious to see what he had to say.
Posts feature partner companies & may be sponsored. Post contains affiliate links & I will be compensated if you make a purchase after clicking on links. As an Amazon Associate I earn from qualifying purchases.
A competitive athlete for more than 30 years and one of the top sports dietitians in the country, Bob is one of the first Board Certified Specialists in Sports Dietetics and a Sports Dietitian for the United States Olympic Committee, where he provides nutrition expertise for Olympic athletes.
He is one of the foremost experts on nutrition for endurance athletes and is a regular speaker at many national level conferences as well as triathlon and cycling coaching education clinics. He is also an exercise physiologist, a USA Triathlon Certified Elite Coach, a NSCA Certified Strength and Conditioning Specialist and a competitive triathlete and runner.
Easy Workout Tips and Nutrition Advice
In today's busy world, consumers sometimes struggle to find time to get their workouts in. Bob Seebohar, a Sports Nutrition Expert, created easy everyday workout and nutrition tips that will energize your body pre, during and post-workout.
Carry a smaller-sized water bottle (20oz or less), and drink it! Every few hours when you get up to refill, do 10 squats at the water cooler, and another 10 before you sit down at your desk.

Make a daily push up goal, and complete in blocks throughout the day. If your goal is 100 per day – do 25 when you wake up, 25 before lunch, 25 in the afternoon, and 25 before bed. Track them on a post it note or a smartphone so you have a visual of your accomplishment.

To ensure you have the nutrition energy to workout, carry healthy snacks and a few CLIF Organic Energy Food Oatmeal (COEF) packets with you in your purse or gym bag. A COEF Oatmeal flavor provides pre-exercise energy to get you through a workout successfully.

Two benefits to strength training: it doesn't take long and it doesn't require special equipment. Alternate body weight exercises for 15 minutes (walking lunges, chair dips and burpees) for a quick and effective workout.

Reverse pyramid routines are a great way to build strength in a quick workout. Choose 1-2 upper body and 1-2 lower body moves for each exercise, starting with 10 reps on your right, then 10 on your left. Follow with 8 on each side, then 6, then 4 – no rest in-between. A CLIF Builder's Bar is great after a workout like this as it gives you an optimal amount of carbohydrates and protein for effective recovery.
I can definitely tell you that trying to work out without the proper nutrition does NOT work well. I am hypoglycemic and low blood sugar during a workout means I go home without pushing myself as hard as I can. It makes no sense for me to take a short stroll on the treadmill when I could be working out harder and really seeing a difference.
I have made homemade energy bars but don't always have time. Clif bars are something that I use regularly to give me the energy I need to work out. They are also a great option for post workout recovery. Clif Builder's Protein Bar is a great-tasting high-protein bar crafted to help provide nutrition for total body fitness.
They contain 20g of complete protein to help build and repair muscle and carbohydrates to help replenish energy stores and help get you ready for your next workout. They are also fortified with vitamins and minerals to support protein metabolism. This is a convenient source of protein to throw in your workout bag to help energize your exercise routine.
CLIF Organic Energy Food is a totally new product for me. Each pouch is made from real food ingredients, inspired by the home recipes of Team CLIF BAR athletes. The oatmeal recipes offer breakfast inspired flavors and are the first portable oatmeal pouches crafted from real food ingredients that athletes need for early morning adventures.
They are certified organic and do not contain partially-hydrogenated oils, high fructose corn syrup, artificial flavors or synthetic preservatives. For maximum results, take them 2 to 3 hours before your workout. CLIF Organic Energy Food comes in flavors like Apple Cinnamon Oatmeal and Banana Maple Oatmeal .
Check out the infographic below for easy workout tips and nutrition advice from Bob Seebohar.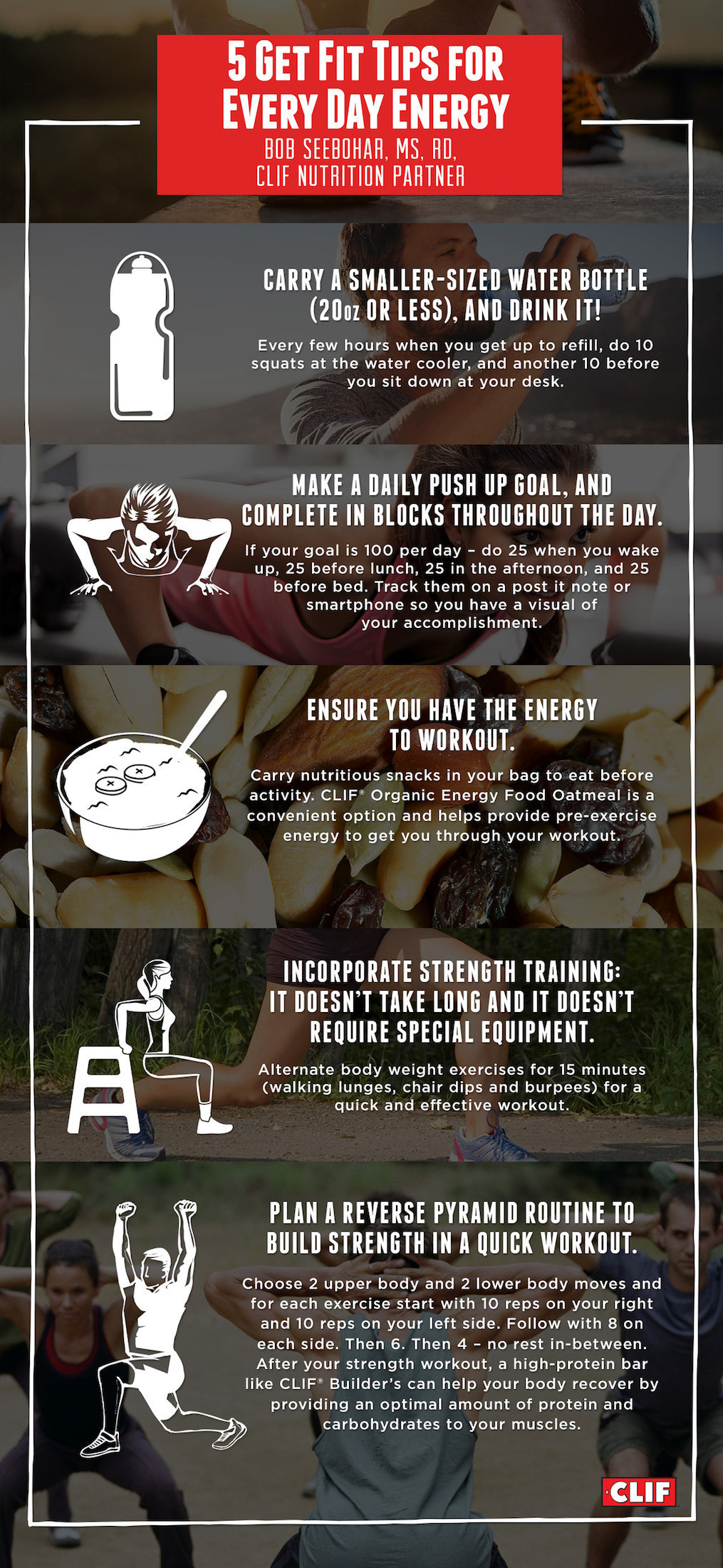 Have any other workout tips to share?
Diane is a professional blogger and nationally certified pharmacy technician at Good Pill Pharmacy.  She earned her BS in Microbiology at the University of New Hampshire and has worked in cancer research, academics, and biotechnology. Concern over the growing incidence of human disease and the birth of her children led her to begin living a more natural life. She quickly realized that the information she was learning along the way could be beneficial to many others and started blogging and freelance writing to share this knowledge with others. Learn more about her HERE.