Last Updated on October 8, 2018 by Diane Hoffmaster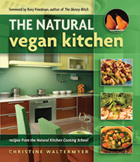 Title: The Natural Vegan Kitchen
Subtitle: Recipes from the Natural Kitchen Cooking School
ISBN: 978-1570672453
Author:  Christine Waltermyer
Pages: 192 pages (paperback)
From the Publisher:
Exciting news for everyone interested in preparing vegan meals. THE NATURAL VEGAN KITCHEN by Christine Waltermyer blends the principles of macrobiotics seamlessly with recipes that taste too indulgent to be good for you.
Posts feature partner companies & may be sponsored. Post contains affiliate links & I will be compensated if you make a purchase after clicking on links.
Readers are encouraged to:
• eat in harmony with their surroundings
• maintain balance in their life and diet
• savor mealtimes
• enjoy a natural lifestyle
Wholesome meals that offer both more nutritional bang for your buck and deliver a deeply satisfying experience meet these guidelines. These recipes will encourage America to fall in love with healthy cooking. When food tastes delicious, is good for your heart and your waistline, and gentle on the planet, it is easy to embrace.
About the Author:
Christine Waltermyer has over a decade of experience in the field of natural cooking and is the founder and director of the Natural Kitchen Cooking School, with training programs in Manhattan, New York and Princeton, New Jersey. Christine is a masterful chef and teacher specializing in macrobiotic and vegan cuisines, and has co-taught with legendary natural foods leader Michio Kushi.
My Review:
There is a big difference between eating a vegetarian or vegan diet and eating a HEALTHY vegetarian or vegan diet! You can find vegan candy bars and cookies but that doesn't make them any healthier for you than regular candy bars and cookies! The aim of
The Natural Vegan Kitchen
is to teach you how to live a healthy vegan lifestyle using simple, natural ingredients like whole grains, legumes, fruits and vegetables. It is a blend of vegan and macrobiotic cooking which focuses on wholesome, unprocessed foods.
I may not be vegan, but I do understand the importance of reducing our dependence on animal products. I am a firm believer that not every day's menu must include meat! I am aware of the nutritional needs of my family, especially the protein requirements of my children so I was particularly drawn to the Main Dish and Casserole chapters. There is also a chapter on Beans that had a number of high protein dishes that could be used for a main meal. Other chapters such as Breakfast, Salads, Soups, Deserts, etc had several recipes that were already very familiar to me, with some modifications. Some of the ingredients in the recipes I had never heard of before but there is a nice glossary at the end of the book to explain what they are. Many recipes like the Blueberry Salsa and the Breaded Cauliflower needed no explanation at all!
The author did a very good job of explaining the steps in each recipe and included nutritional information for each one.
I found it interesting that the author chose to use grape seed oil in her recipes. She explains her reasoning in the introduction. I would probably choose to use olive oil, only because I am more familiar with it and it is always in the house. She does note that the use of grape seed oil is completely up to the chef!
All in all, a very good introduction to cooking in a natural vegan kitchen!
Disclaimer: As per FTC guidelines, I received one copy of this book in exchange for my honest review. I received no monetary compensation. All opinions expressed here are mine and mine alone.
Diane has a Bachelor's degree in Microbiology with a Minor in Health Management and Policy. She spent many years working in cancer research, academics, and biotechnology. Concern over the growing incidence of human disease and the birth of her children led her to begin living a more natural life. She quickly realized that the information she was learning along the way could be beneficial to many others and started blogging as a way to share this knowledge with others. While passionate about health and the environment she can't quite give up her favorite Cheetos and Diet Coke! Learn more about her HERE.