This discussion about Fish Oil Versus Omega 3 for Heart Health has been compensated by Collective Bias, Inc. and its advertiser. All opinions are mine alone. #NatureMadeHeartHealth #CollectiveBias
As I move through middle age, I am amazed at the number of health issues that I need to concern myself with. I never worried too much about my metabolism, nutritional supplements or heart health in my 20s and 30s. Maybe my mortality is more of a pressing concern now that I am in my 40s? Or, maybe I am just more educated now about the need to take care of my body, so it keeps on thriving well into my 80s!
Posts feature partner companies & may be sponsored. Post contains affiliate links & I will be compensated if you make a purchase after clicking on links. As an Amazon Associate I earn from qualifying purchases.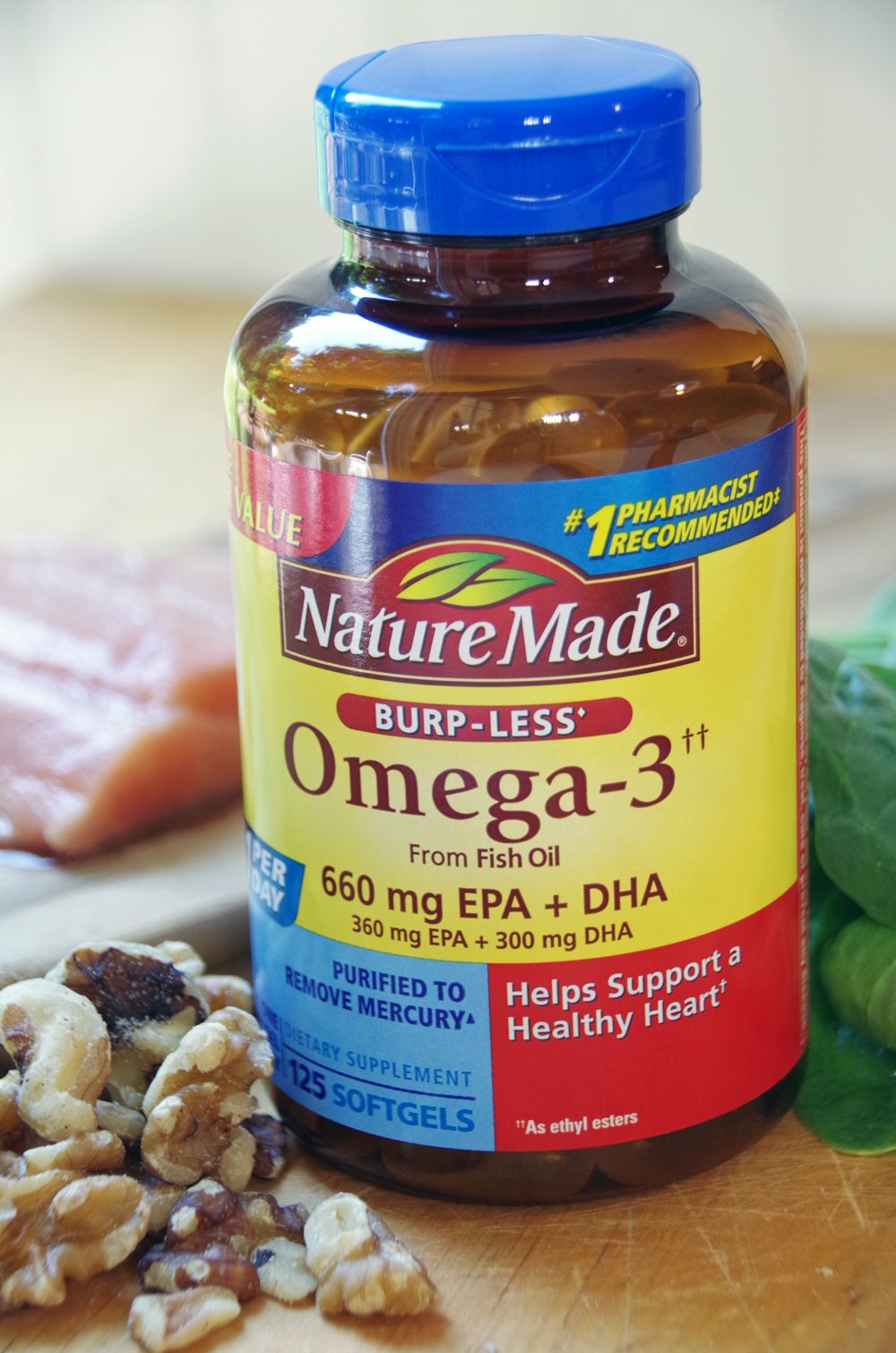 If you are concerned about maintaining a healthy lifestyle, and especially about heart health, navigating the supplement isle can be confusing. Which supplements are best? Do you need more than a daily multivitamin to maintain peak health? Have you talked to your doctor about the best supplements for a healthy heart? If you are confused about the difference between fish oil versus Omega-3 fatty acids, I thought I would share some information from Nature Made® about their heart healthy supplement selection!
How does fish oil help your heart?
So, you want a healthy heart, right? Well, fish oil may be able to help. It is considered a healthy fat that should be included in most people's diet. Fish oil is a rich source of Omega-3 fatty acids. These fatty acids are also found in flax seeds, walnuts, and dark leafy greens, but are REALLY prevalent in seafood (check out my post on the health benefits of walnuts if you want to learn more!). Research has shown that certain Omega-3's may improve heart health. The 'how' is kind of complicated, but basically the Omega-3 fatty acids act in a number of ways that may improve the overall function of your heart.
Are Omega-3s and fish oil the same thing?
There is a difference between Omega-3 fatty acids and fish oil. Basically, all fish oil contains Omega-3 fatty acids. Specifically, it contains both docosahexaenoic acid (DHA) and eicosapentaenoic acid (EPA). But, there is more to fish oil than JUST those omegas. You can also find Omega-3 fatty acids in things other than fish. They are in much lower amounts, but they are still there. And the Omega-3 fatty acids are what is actually supporting your heart health. The distinction can be a bit confusing, but Nature Made® wants to help you understand it better! Text OMEGA3 to 555888 and watch a quick video from Nature Made® to learn more about your Heart Health and Omega-3s at Walmart.
Fish Oil Versus Omega-3 for Heart Health
So, you head out to Walmart to find your supplements for heart health. What exactly is it you are looking for? It's actually the EPA & DHA Omega-3s from fish oil that count when it comes to the health of your heart. So, Nature Made® has changed their labels at Walmart to reflect that importance.
There is a great selection of Nature Made® Omega-3 supplements at Walmart that clearly indicate the amount of EPA & DHA Omega-3s on the front of the label. I picked up a Nature Made® Omega-3 660mg EPA+DHA, One per Day, Burpless in the vitamin section of my local Walmart. It's specially coated to help prevent a fishy odor and aftertaste, which I appreciate! It is also purified to remove mercury‡​, which is definitely a concern when it comes to fish oil supplements. I have always been a big fan of Nature Made® vitamins and supplements. Their fish oil supply only comes from wild caught ocean fish, not farm raised fish. Of course, they are also free from added colors, artificial flavors, yeast and starch as well as being gluten free.​ They are the #1 Pharmacist recommended vitamin and supplement brand*  ​
The Omega-3 supplements from Nature Made® are definitely a high quality supplement that I trust to support my heart health! If you are looking to add Omega-3 supplements to your diet, you can find them at your local Walmart in the vitamin isle!
Do YOU understand the difference between Fish Oil versus Omega-3 fatty acids?
† These statements have not been evaluated by the Food and Drug Administration. These products are not intended to diagnose, treat, cure or prevent any disease. Fish Oil Versus Omega 3 for Heart Health
* Based on a survey of pharmacists who recommend branded vitamins and supplements.
‡State-of-the-art purification processes to remove PCBs, dioxins and furans, and mercury to ensure purity levels below 0.09 ppm, 2 ppt WHO TEQs, and 0.1 ppm respectively.​
Diane is a professional blogger and nationally certified pharmacy technician at Good Pill Pharmacy.  She earned her BS in Microbiology at the University of New Hampshire and has worked in cancer research, academics, and biotechnology. Concern over the growing incidence of human disease and the birth of her children led her to begin living a more natural life. She quickly realized that the information she was learning along the way could be beneficial to many others and started blogging and freelance writing to share this knowledge with others. Learn more about her HERE.