Last Updated on
Over the last few weeks I have been trying very hard to eat gluten free. I am hoping it helps with some inflammatory issues I am having but it is a real struggle for me to not starve to death. Honestly, I have a serious love affair with grains…whether it is cereal, toast, pasta or Cheetos I just hear those carbs calling to me from my pantry. I have had to change the way I eat rather drastically but so far so good. Last week I made my Shrimp Fajita Omelette which was delicious and this week I decided to stay with the fajita theme and make a rice bowl with the same sort of ingredients. I picked up some fresh cilantro from the grocery store since mine in the garden did not survive the last freezer. I topped it with a bit of store bought queso because…well, everything tastes better with cheese on it! Hopefully you like this Shrimp Fajita Rice Bowl recipe and remember that you CAN make dinner in less than 15 minutes with whole, fresh ingredients! Check out the linky at the bottom of the post for a few more quick dinner ideas.
Posts feature partner companies & may be sponsored. Post contains affiliate links & I will be compensated if you make a purchase after clicking on links.
*NOTE:  For fast weeknight meals, make up rice on the weekend and store in the fridge. Also, keeping precooked, frozen shrimp already peeled in the freezer makes for a quick protein source that takes only minutes to thaw!
Shrimp Fajita Rice Bowl Recipe
Yields 2 to 3
Shrimp Fajita Rice Bowl Recipe #15MinuteSuppers
Quick and easy dinner recipe, no box required!
5 minPrep Time
10 minCook Time
15 minTotal Time
Ingredients
4 cups cooked rice, warm
3 TBSP olive oil
1/2 green bell pepper, sliced
1/2 onion, sliced
2 cups frozen cooked shrimp, thawed with shells removed
1 TBSP fajita seasoning
1/4 cup fresh cilantro, chopped
1/3 cup queso, melted
Instructions
Heat olive oil in frying pan over medium heat.
Add peppers and onions and saute 5 minutes or until starting to wilt
Add cooked shrimp and fajita seasoning. Saute 3 to 4 minutes to heat through
Put warm rice into bowls and top with fajita mixture
Add cilantro and queso to taste
Serve
7.8.1.2
98
https://www.turningclockback.com/shrimp-fajita-rice-bowl/
Need more quick suppers? Check out these other great #15MinuteSuppers!
Follow 15 Minute Suppers on Facebook | Twitter | Instagram | Pinterest
and look for the #15MinuteSuppers hashtag too!
Oriental Style Stir Fried Spaghetti with Bacon from Food 4 Little Ones
Creamy Garlic Pasta from Better in Bulk
Creamy Coconut Shrimp from Around My Family Table
Quick 15 Minute Shrimp Tacos from Jen's Journey
Shrimp Fajita Rice Bowl from Turning the Clock Back
Pasta with Bacon and Brussels Sprouts from Suburbia Unwrapped
Head over to our #15MinuteSuppers Pinterest Board to see all the past recipes and more delicious goodness!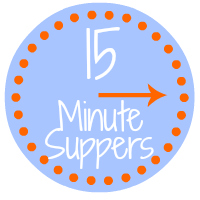 Would you like to join us at #15MinuteSuppers? We'd love to have you! Please check out the 15 Minute Suppers website or ask to join the Facebook group (for bloggers) to participate on Fridays…we'd love to have you join us.
Diane has a Bachelor's degree in Microbiology with a Minor in Health Management and Policy. She spent many years working in cancer research, academics, and biotechnology. Concern over the growing incidence of human disease and the birth of her children led her to begin living a more natural life. She quickly realized that the information she was learning along the way could be beneficial to many others and started blogging as a way to share this knowledge with others. While passionate about health and the environment she can't quite give up her favorite Cheetos and Diet Coke! Learn more about her HERE.