This Chocolate Almond Butter Smoothie Bowl Recipe for Nut Lovers has been compensated by Collective Bias, Inc. and its advertiser. All opinions are mine alone. #StartAHealthyRelationship #CollectiveBias
I absolutely love nuts and they are an incredibly healthy addition to the diet. High in protein and loaded with nutrition, nuts are a great way to start your day. Almonds, particularly, have a ton of health benefits. They are also absolutely delicious in a number of nut recipes. If you are looking for a unique recipe for nut lovers, try making smoothie bowls!
This chocolate almond butter smoothie bowl recipe is a filling and tasty breakfast recipe. And MaraNatha almond butter from Walmart is the perfect choice for nut-lovers who enjoy a healthy lifestyle.
Smoothie Bowl Tips
Smoothies are delicious and easily consumed with just a glass and straw. However, smoothie bowls have a bit of a 'wow factor' when it comes to presentation! If you are looking for a few smoothie bowl tips, here are a few that might help:
Use frozen fruit or liquid: You want the consistency of your smoothie bowl to be THICK.
Use the minimum amount of liquid. This will also help with consistency.
Get creative with toppings. Smoothie bowl toppings include everything from nuts and seeds to granola or chocolate chips. Get creative! Just because you wouldn't necessarily put it in a smoothie, doesn't mean it won't work as a smoothie bowl topping! If you want more flavor ideas, try my strawberry smoothie bowl recipe, too.
Add protein: Healthy smoothie bowls really need to contain protein. Add yogurt or even whole oats, however, nuts are my favorite protein addition to an easy smoothie bowl recipe. I found MaraNatha almond butter at Walmart and it was a delicious addition to this chocolate almond butter smoothie bowl recipe!
Shop for MaraNatha almond butter right now!
Hover over the photo below for a shoppable link!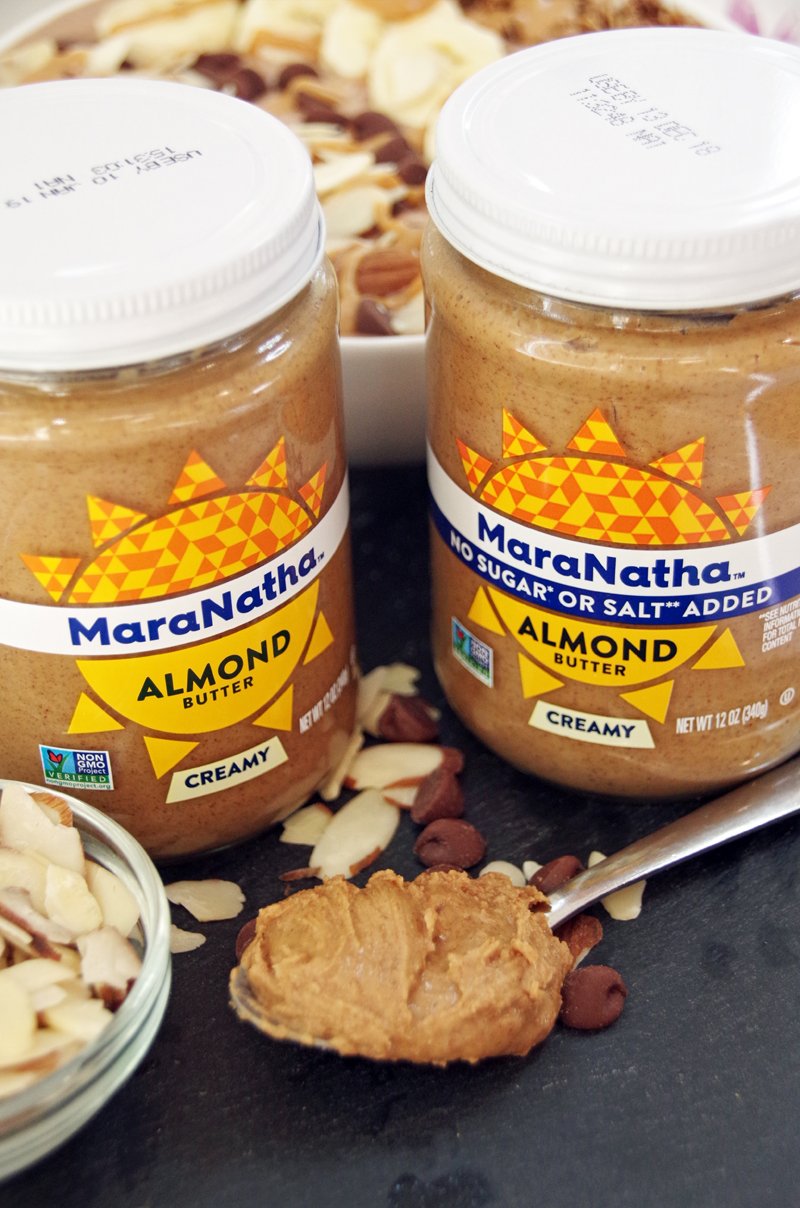 This Almond Recipe for Nut Lovers is a Healthier Choice!
Almonds are yummy raw, straight out of the package. Tossed them on salads or add to trail mix. However, they are also delicious when added as ingredients in cooked dishes like casseroles or stir-fries. And almond butter is an easy addition to clean smoothie recipes. I love it with a bit of dark chocolate and sliced bananas!
Want to try out MaraNatha almond butter?
Almonds are an excellent source of vitamin E, calcium, phosphorus, iron, magnesium, zinc, selenium, copper, and niacin. So many nutrients all packed into one delicious nut. They can help improve overall nutrition and may protect against a number of diseases. Adding almond butter into your diet is an easy way to boost your intake of several key nutrients. Be picky about the almond butter you choose! MaraNatha is one of America's largest producers of high quality natural and organic nut butters.
I love that MaraNantha has a No Salt or Sugar Added Almond Butter. If you want all the flavor with no additional salt or sugar, it is a great choice!
Chocolate Almond Butter Smoothie Bowl Recipe
This healthy smoothie bowl is loaded with almonds, from almond milk and almond butter to actual slivered almonds sprinkled on top. If you are looking for a recipe for nut lovers with a passion for almonds, this is it. (and if you want more almond recipes, try this almond flour roti recipe!)
There are really just two simple steps to making a smoothie bowl. Blend the smoothie ingredients, then decorate with your smoothie bowl toppings. I prefer the no stir almond butter varieties and used MaraNatha Creamy No Stir Almond Butter for this recipe. They use only California almonds, then roast and double-grind them for super smooth texture. It is a delicious, creamy almond butter that is easily spread right from the jar with no mixing. Make sure you refrigerate it after opening so that it stays fresh!
Learn more about MaraNantha Almond Butter! Follow them on
Facebook, Youtube or Instagram !
Yield: 1
Chocolate Almond Butter Smoothie Bowl Recipe for Nut Lovers!
This chocolate almond butter smoothie bowl recipe is the best breakfast for nut lovers!
Ingredients
1 cup Greek yogurt
1/2 cup almond milk
2 frozen bananas
3 tablespoons MaraNantha Almond butter
1 tablespoon cocoa powder
Toppings used: Chocolate granola, sliced bananas, slivered almonds, chia seeds, chocolate chips, melted almond butter
Instructions
In a blender, combine the smoothie ingredients. Blend the yogurt, almond milk, frozen bananas, almond butter, and cocoa powder until thick and smooth.
Pour smoothie ingredients into a bowl.
Top with smoothie bowl toppings of your choice in a pattern or just scattered on creatively!
Serve immediately and enjoy!
Nutrition Information:
Serving Size:
1
Amount Per Serving:
Calories:

590
Total Fat:

29g
Saturated Fat:

4g
Sodium:

81mg
Carbohydrates:

81g
Sugar:

41g
Protein:

14g
Find MaraNatha Almond Butter at Walmart right where all the other nut butters are found!
Like this Chocolate Almond Butter Smoothie Bowl Recipe? Pin it for later!
Diane is a professional blogger and nationally certified pharmacy technician at Good Pill Pharmacy.  She earned her BS in Microbiology at the University of New Hampshire and has worked in cancer research, academics, and biotechnology. Concern over the growing incidence of human disease and the birth of her children led her to begin living a more natural life. She quickly realized that the information she was learning along the way could be beneficial to many others and started blogging and freelance writing to share this knowledge with others. Learn more about her HERE.