Posts feature partner companies & may be sponsored. Post contains affiliate links & I will be compensated if you make a purchase after clicking on links. As an Amazon Associate I earn from qualifying purchases.
My kids start back to school in a few weeks. Summer is going by quickly! I'm constantly looking for healthy lunch box ideas. Even though they are teens, they still prefer to bring lunch from home. I'm glad! I'm not a huge fan of the school lunch program in my area. This is the largest school district in Georgia and there is no actual cooking done on site. Prepackaged grilled cheese sandwiches with white bread and fake cheese are reheated in little plastic bags and they call that healthy. Shortcuts are taken and questionable foods are served all in the name of feeding huge numbers of children as quickly and cheaply as they can.
My kids do occasionally buy school lunch but it doesn't happen often. That means I have to come up with healthy lunch box ideas almost every morning. At 5 AM. I'm not really creative at 5 AM!
This post contains affiliate links. If you make a purchase through a link on this site, we receive a small commission at no additional cost to you.
How to Pack a Healthy Lunch Box
It's easy to pack a lunch box for your child to take to school. There are tons of prepackaged foods on the grocery store shelves, right? You could throw candy, cookies and Twinkies in a bag and call it lunch but you wouldn't be doing your kids much of a favor. It's not always so easy to know how to pack a healthy lunch box. If you are interested in some easy guidelines for packing a healthy lunch box, here are a few things to keep in mind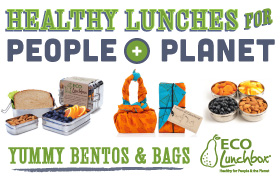 Avoid high fructose corn syrup: 
Honestly, HFCS is everywhere, even in foods you think sound healthy. Granola bars are a particularly common snack food that contains this highly processed sweetener. Many brands are starting to realize that consumers are avoiding it and coming out with new versions of their snack foods. Read the labels on the back of the package to be sure that it doesn't contain it. If you want to pack a healthy lunch box, ditching the HFCS is a great first step.
Make things from scratch:
So many prepackaged foods have artificial colors, flavors and preservatives. These ingredients may have questionable effects on our health. You can pack a healthier lunch box by avoiding overly processed foods and making things from scratch. Try this pumpkin pie homemade pudding recipe. You could make it up on the weekend and put it in reusable containers to slip quickly into your child's lunchbox. Desserts are not unhealthy. Trans fats and artificial ingredients that come in pre-made desserts ARE unhealthy.
Skip the sugary drinks: 
People today do not drink enough water. There is no reason to pack juice boxes, sports drinks, soda or flavored milks in a lunchbox. All that does is add unneeded calories, sugar, and artificial junk. Pack a stainless steel water bottle full of water instead. If your child doesn't like water (like mine!) try using a natural product to flavor it like True Lemon Natural Flavored Water Enhancer. It has zero artificial ingredients and is easy to toss into your lunch box.
Find a balance between healthy and convenient:
While it is great to say you want to pack a healthier lunchbox, it really does take a little bit of extra time. Making a homemade peanut butter and jelly sandwich doesn't take long but it isn't as fast as throwing one of those pre-made frozen ones into a lunch box. Slicing cheese and apples to go with whole wheat crackers takes longer than just throwing a Lunchable in a bag. You will need to find a balance when it comes to packing a healthy lunch box and realistically getting your kid out the door on time for the bus. Do what you can and don't kick yourself because you aren't designing some creative Bento Box art project for your kid.
Choose whole grains: 
If you are making a sandwich, make sure to choose whole wheat bread rather than white. You could also include multi-grain crackers, trail mix made with a whole grain cereal, etc. Adding whole grains is an easy way to make a healthy lunch box and also significantly increases your child's fiber intake.
Most school lunch programs are designed to feed a lot of kids on a very limited budget. Eating out every day as an adult may be convenient but you are wasting a ton of money and probably not eating as healthy as you should. With back to school season upon us, consider investing in a decent insulated lunch bag and packing a healthy lunch box to take with you. Your waste line AND your budget will thank you for it!
Do you have any tips for packing a healthy lunch box? 
Put these Homemade Gingersnap Energy Bars in your lunch!
Diane is a professional blogger and nationally certified pharmacy technician at Good Pill Pharmacy.  She earned her BS in Microbiology at the University of New Hampshire and has worked in cancer research, academics, and biotechnology. Concern over the growing incidence of human disease and the birth of her children led her to begin living a more natural life. She quickly realized that the information she was learning along the way could be beneficial to many others and started blogging and freelance writing to share this knowledge with others. Learn more about her HERE.